Published 8/21/2023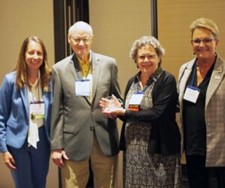 The American Kennel Club Canine Health Foundation recently presented the 2023 Asa Mays, DVM Excellence in Canine Health Research Award to Gary Johnson, DVM, PhD. Johnson is an associate professor in the Department of Veterinary Pathobiology and director of the Canine Molecular Genetics Laboratory at the University of Missouri College of Veterinary Medicine. Named after Dr. Asa Mays, a member of the inaugural CHF Board of Directors, the award is a biennial honor presented to a research investigator who demonstrates meritorious achievements in furthering the mission of identifying, characterizing and treating canine disease and ailments.
The award was presented to Johnson on Aug. 12 by Laura Liscum, PhD, CHF scientific review committee chair, and Carolyn Henry, DVM, MS, of the MU CVM, during the 2023 AKC Canine Health Foundation National Parent Club Canine Health Conference.
Johnson, who has been a faculty member at the CVM since 1980, has a research emphasis in using whole genome sequencing to identify the molecular genetic causes of heritable canine diseases. He has been searching for these disease-causing mutations since the early 1990s. In 2013, Johnson and his colleagues were among the first to use whole genome sequencing to identify mutations. The technology has been used to identify genetic causes for diseases such as degenerative myelopathy, neuronal storage diseases and glaucoma.
CHF Chief Executive Officer Stephanie Montgomery said, "Dr. Johnson's pioneering research in canine genetics brought a new era to canine health. His groundbreaking career not only decoded genetics, it also deepened the connections we have with our canine companions."
In November, the University of Missouri announced a $1.5 million gift from the Orthopedic Foundation for Animals to help fund a new director of the Canine Molecular Genetics Laboratory in the CVM. When Johnson retires, the gift from OFA will establish the Dr. E. A. Corley OFA Endowed Program in his honor to ensure the continuation of canine molecular genetic research at Mizzou.
By Nick Childress