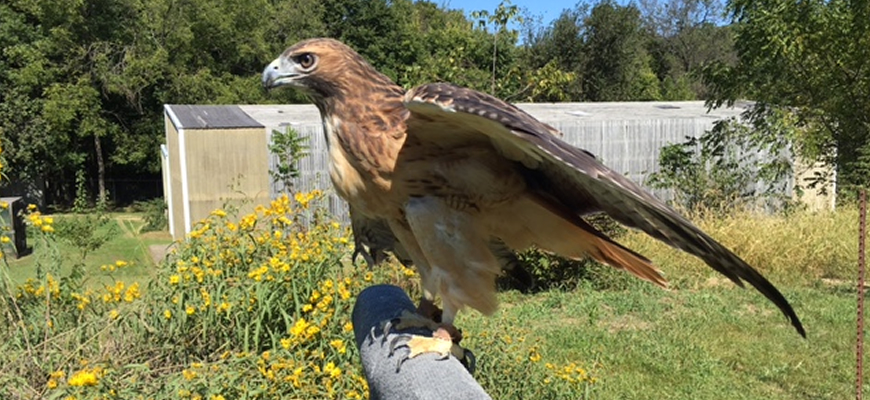 Our Goals
To rehabilitate and release birds of prey back into the wild
To educate the public about raptors and their importance in our environment
To gain more information about raptors
The Raptor Rehabilitation Project is a service and education organization of the University of Missouri-College of Veterinary Medicine in Columbia, Missouri.
Veterinary students, community members and other University of Missouri students volunteer their time and effort in rehabilitating injured raptors and caring for resident birds. Volunteers also help raise public awareness by giving presentations throughout central Missouri. We bring education birds on these presentations to teach people about the ecological and cultural importance of birds of prey.
---
What We Do
Rehabilitation and Release
The primary goal of the Raptor Rehabilitation Project is to help heal injured raptors and release them back into the wild. Raptors which arrive at the veterinary hospital have usually been injured by flying into objects, like cars, buildings or fences. Other common injuries include gunshot wounds, eye wounds, and complications resulting from habitat loss.
Upon hospitalization, the bird's injuries are assessed. Necessary medical procedures, including surgeries, are performed. The birds are then allowed to recover in large flight cages. During this time, the birds are monitored in an attempt to bring them to a releasable state. Before being released, the birds must be able to hunt for themselves. This requires keen sight, strong flight, and the ability to recognize and capture prey.
When the bird has fully recovered and reaches a releasable state, it's time to set it free. The Raptor Rehabilitation Project has a 36% release range. While this may not sound high, it is actually above the national release rate for raptor rehabilitation centers.