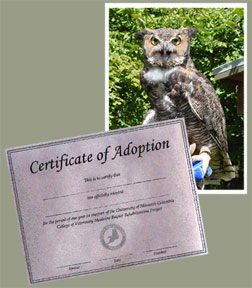 By symbolically adopting a raptor and becoming a sponsor, you will enable the Project to make additional improvements on the holding and training facilities, provide the best food for the birds, and purchase new handling equipment. As a bird's sponsor, you will receive a certificate of adoption, a picture and history of the adopted bird, and an invitation to our annual picnic at our facility. Adoptions make wonderful educational gifts for classrooms, children, and wildlife enthusiasts.
Species for Adoption
American Kestrel – $35
Red-tailed Hawk – $45
Harlan's Hawk – $45
Turkey Vulture – $45
Barred Owl – $45
Ready to adopt?
Download our adoption form. Make checks payable to the MU Raptor Rehabilitation Project and mail to:
Adoptions, Raptor Rehabilitation Project
College of Veterinary Medicine
W203 Veterinary Medicine Building
University of Missouri
Columbia, MO 65211