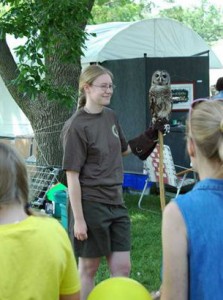 Though the primary goal of the Raptor Rehabilitation Project is to release birds back into the wild, sometimes this is not possible. Some birds sustain permanent, irreparable injuries that prevent them from being able to survive on their own. Birds that are unable to be released, but can maintain a good quality of life, find a permanent home with the Project.
Our resident birds get food and accommodations in return for being ambassadors. As ambassadors, resident raptors help the Project to fulfill another one of its goals – education and awareness. Raptor ambassadors travel with Project volunteers to public and private presentations. They give the public the chance to see a raptor up-close and personal, a rare and wonderful opportunity.
If you would like to contact us about scheduling a presentation for your school or organization, please email our Education Coordinator.