Published 4/17/2023
The University of Missouri College of Veterinary Medicine John W. Connaway Society welcomed four new annual members during a reception held at the Holiday Inn Executive Center in Columbia, Saturday, April 15, prior to the Gentle Doctor Benefit. The Connaway Society was established to continue the vision of John Connaway, who was the chair of MU's Veterinary Science Department from 1891 to 1931. The society is a symbol of the abiding interest of its members on the welfare of the college.
The newest members are Jennifer Hamilton, Brenda Beerntsen, and Ellen Withrow and Robert Noah.
Jennifer Hamilton is a 2001 graduate of MU's College of Agriculture, Food and Natural Resources with a bachelor's degree in biochemistry. She will celebrate the 22nd anniversary of her employment with Mizzou in June. She joined the College of Veterinary Medicine in September of 2012 as the staff assistant for the associate dean in the Office of Academic Affairs. She manages student schedules, monitors academic progress, and organizes visiting scholar programs. She is a resident of Columbia and has supported the Emily Meyer Imagination Award and the Gentle Doctor Benefit.
Brenda Beerntsen earned a bachelor's degree in zoology, a master's degree in veterinary science and a doctorate in veterinary science/entomology at the University of Wisconsin−Madison. She pursued postdoctoral research at the University of California before accepting a position at MU in 2000. She is a professor of veterinary pathobiology and serves as chair of the Department of Veterinary Pathobiology. She has supported the Gentle Doctor Benefit and the college's Community Chest. She is a Columbia resident.
Ellen Withrow and Robert Noah reside on a farm in Linn County, Missouri, with three dogs and a cat. Withrow attended Saturday's Connaway Society event. She is a volunteer at the 4-H Canine Summer Camp held at the Lake of the Ozarks. She also teaches K9 nose work online as an associate nose work instructor for the National Association of Canine Scent Work. Nose work is a sport that involves dogs seeking out and finding different scents that have been hidden indoors and outside.
She has been bringing animals to the MU Veterinary Health Center since 1980, when equine ophthalmologists surgically removed a growth from her barrel racing horse. She and Noah have supported the MU Companion Animal Fitness and Rehab Program.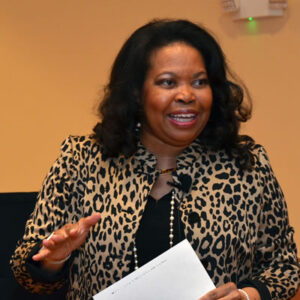 Connaway Society attendees heard a college update from CVM Dean Carolyn Henry, DVM, MS. She also introduced the speaker for the afternoon, Veterinary Health Center Director Gerelyn Henry, DVM, MBA. Gerelyn Henry took over as the VHC director last November. She provided an update on progress that is taking place in the Small Animal, Large Animal and Equine hospitals, including the new Sports Medicine and Rehabilitation suite that is nearing completion.