Published 4/19/2023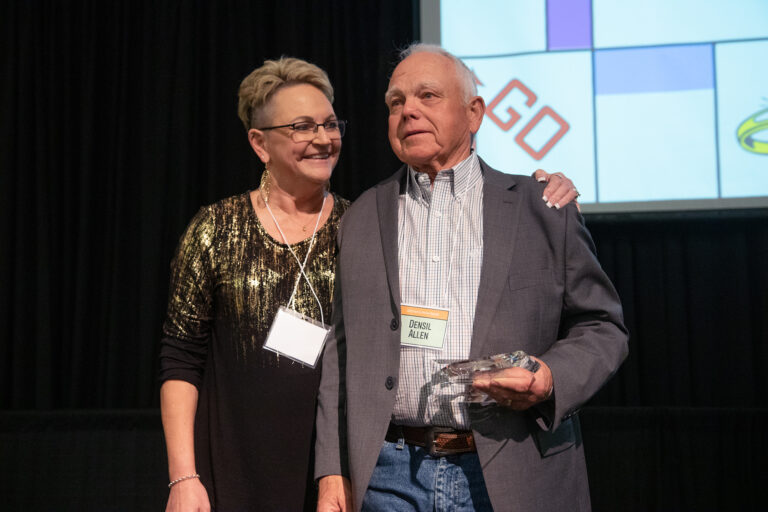 University of Missouri College of Veterinary Medicine Dean Carolyn J. Henry honored longtime Gentle Doctor Benefit auctioneer Densil Allen during a special presentation April 15. Following the conclusion of the GDB live auction, Henry announced Allen as the recipient of the 2022 Dean's Impact Award.
The annual awards, established in 1993, honor faculty, staff and individuals from outside of the college for their sustained and significant positive impact on CVM programs. Henry had previously recognized the 2022 faculty and staff recipients; however, the presentation of the award to an individual from outside of the college had been postponed.
Allen, of Knob Noster, is a graduate of the MU College of Agriculture, Food and Natural Resources. He went on to earn his DVM degree from the College of Veterinary Medicine in 1971. He owned and operated Warrensburg Animal Hospital until his retirement. He also owned and operated Allen's Auction Service and taught animal science courses at the University of Central Missouri where he is a professor emeritus. In 2021, Missouri Gov. Mike Parson appointed Allen as the presiding commissioner for Johnson County.
He has volunteered his auctioneering abilities during every GDB live auction, helping to raise thousands of dollars to support veterinary students' education.
He and his wife, Cyndi, are the parents of a daughter, ­­­­­­­­­­­­­­Emma.