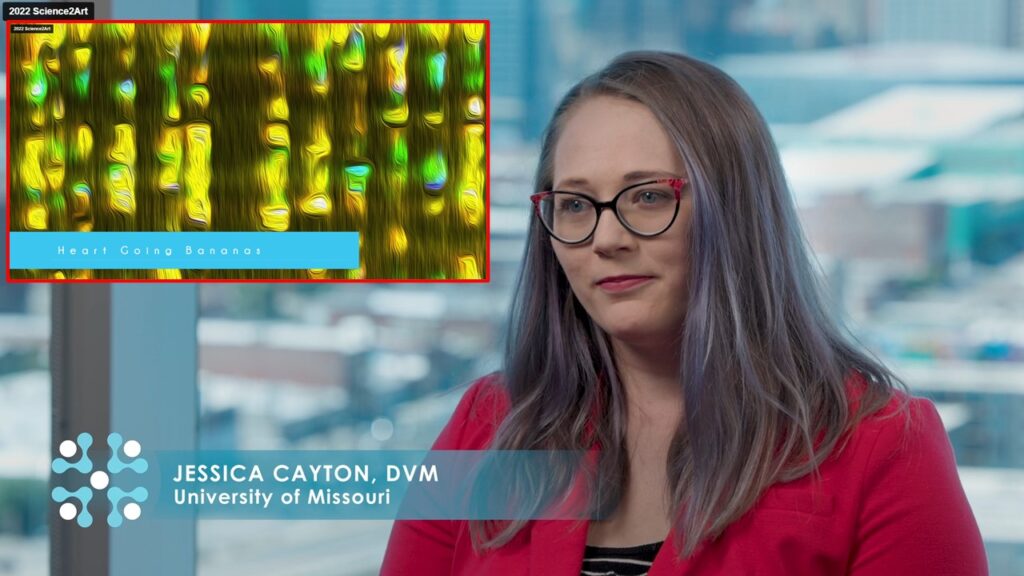 Published – 9/2/2022
Jessica Cayton, DVM, graduate fellow in veterinary pathobiology at the University of Missouri College of Veterinary Medicine recently received an award at the June 2022 BioNexus KC Science2Art Exhibition. The exhibition provides a platform for regional scientists to display and describe their research through visual arts, according to the BioNexus website.
Cayton's winning image was "painted" by approximately 50 different muscle cells within the right atria of an aged mouse heart using high-speed, high-resolution fluorescent calcium imaging. The heart was under hypokalemic conditions, which is known to trigger cardiac arrhythmia in patients. Different populations of cells were given distinct colors, and using a "pseudo-linescan" approach, the populations of heart cells "painted" the image with time via their calcium signaling events.
Cayton, who is completing her fourth year in the Comparative Medicine Program and her third year as a PhD candidate in area pathobiology at the CVM, is working with the Cardiac Cell Physiology Laboratory within the Department of Medical Pharmacology and Physiology.
Cayton's art recently sold on the BioNexus auction page for $3,000. According to the site, all proceeds from the Science2Art auction will be donated to STEAM education in KC. Since 2014, BioNexus KC and the Science2AArt program has donated over $120,000 to STEAM programs in the region.
By Nick Childress