Published 9/20/2022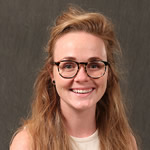 Caitlin Cowan, DVM, a medical oncology resident at the University of Missouri College of Veterinary Medicine was recently named the recipient of the Robert S. Brodey Memorial Award by the Veterinary Cancer Society for her study, "Prolonged Survival in 57 Dogs with Thyroid Carcinoma Treated with Radioactive Iodine as a Sole Therapy." The Robert S. Brodey Memorial Award is presented to the resident with the outstanding oral research project in oncology, which Cowan presented at the Veterinary Cancer Society Conference in Norfolk, Virginia.
The project is a retrospective study focusing on dogs with thyroid tumors that were treated with radioactive iodine, or I-131, as a sole agent. Cowan says the idea initially developed when she was a veterinary student at Mizzou taking care of a golden retriever patient treated with I-131. "The client understandably had many questions that we have clinical bias and experience to answer, but unfortunately there is little published literature assessing this treatment modality in dogs," said Cowan. "I-131 is standard of care for many humans with thyroid tumors and has been used to treat veterinary patients for many years. It requires patients to have a brief stay in radiation isolation, which is a legal and safety necessity, but understandably a less ideal circumstance for most owners and patients. In many cases, the benefits of I-131 therapy outweigh these factors. Having literature to support outcomes, side effects and overall survival helps oncologists and owners alike to make the most informed decisions in treatment choices."
Cowan's primary mentor for this research was Lindsay Donnelly, DVM, MS, DACVIM, an assistant professor of medical oncology at the CVM. "She helped me grow from a veterinary student to clinical researcher, oncologist and beyond," said Cowan. "True to her fashion, Lindsay has supported me with enthusiasm and commitment, always there to answer questions and push me when I need it. Drs. (Jeffrey) Bryan and (Charles) Maitz were also very supportive."
Along with a framed award, Cowan received funds to put toward a Veterinary Cancer Society or American College of Veterinary Internal Medicine conference in the upcoming year.
Cowan says this project was a labor of love and she's proud to have received the award. "It feels incredible to have a question and be able to answer it, especially when the conclusions of the study have great clinical significance," she said. "Even if it's a small part, it's exciting to contribute to the advancement of knowledge in veterinary oncology."
By Nick Childress