Published 8/15/2023
The University of Missouri College of Veterinary Medicine recently announced that all eligible students in the incoming Class of 2027 received at least $2,000 in financial aid. Awards ranged from $2,000 to one full-tuition scholarship worth more than $32,000 and one full cost-of-attendance scholarship worth more than $51,000. In total, 122 scholarships were offered across the board to incoming students, with 20 being awarded $5,000 or more and 66 awarded between $2,500 and $4,000.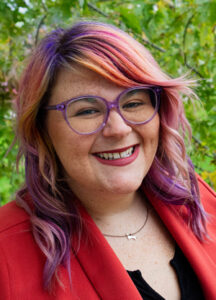 Manda Riley, the financial aid advisor for the CVM, says the awards were the result of hard work and generosity. "These awards are made possible by our incredibly generous alumni, friends and donors whose gifts and endowments support student scholarships within the College of Veterinary Medicine," said Riley. "Our Advancement team works tirelessly to secure additional funding and connect with donors across the country. We also appreciate the support of the Office for Academic and Student Affairs in reviewing and overseeing scholarship awarding."
These scholarships provide important relief in reducing total student loan debt for veterinary students. Funds awarded toward the beginning of their education are particularly important because federal student loans gain interest during the four years students are enrolled in the DVM program. According to Riley, borrowing less as a first-year student can translate to accruing less total debt at graduation, which can have a career-long impact. "We acknowledge that student loan debt is a growing concern among the veterinary medicine community," Riley said. "As tuition costs continue to increase across the country, providing opportunities to reduce expenses through scholarships helps to make veterinary education more affordable. Financial considerations also play an important role in every student's decision to attend Mizzou and can help competitive students commit to our program."
In the past, the CVM was able to provide $100 Gentle Doctor Benefit Scholarships to each member of the incoming class to support book and supply costs. However, the CVM was unable to award larger scholarships to each member due to limited funding. Previously, first-year scholarships were based primarily on admissions scores and financial need and ranged from $500 to a full cost-of-attendance scholarship. This year, the CVM Advancement team was able to secure enough funds to improve the awarding procedures in addition to the $100 Gentle Doctor Benefit Scholarships. According to the 2023 American Association for Veterinary Medical Colleges Institutional Reported Indebtedness Report, approximately 42 percent of first-year students received scholarships nationwide. Riley said the CVM is proud to be far above the average for this upcoming academic year by offering a scholarship to nearly 100 percent of the incoming class.
"The need for scholarships among veterinary students could not be greater," Riley said. "The estimated tuition and living expenses for the 23-24 school year total about $51,400 for in-state students and about $94,600 for nonresident students. According to the 2023 AAVMC Report on Institutional Reported Indebtedness, the national average for DVM students graduating with debt is $172,194. Students at the Mizzou CVM who graduated with debt carried an average debt load of $162,000 in 2022. Scholarships help to contribute to this lessened debt load, as well as the associated financial stress often linked with these debt levels."
The CVM encourages students to explore financial wellness through one-on-one financial aid advising and literacy workshops. Riley provides advising throughout the school year, as well as helps to identify private funding opportunities. These opportunities are sent out to students regularly from various loan, scholarship and grant resources. Riley also offers a variety of financial literacy workshops through the year. In 2021 she began teaching a course on financial success to help students explore their financial behaviors and focus on subjects like budgeting, credit, financial resources and student loan repayment.
By Nick Childress