Published 9/14/2023
Twelve third-year students from the University of Missouri College of Veterinary Medicine recently attended the Opportunities in Equine Practice Seminar Conference visited Lexington, Kentucky. The weekend included lectures on the equine industry, four wet labs for students, practice exhibits from 55 national equine practices, and tours of Keeneland Racetrack, Hagyard Equine Medical Institute, Rood and Riddle Veterinary Pharmacy, and a local thoroughbred farm.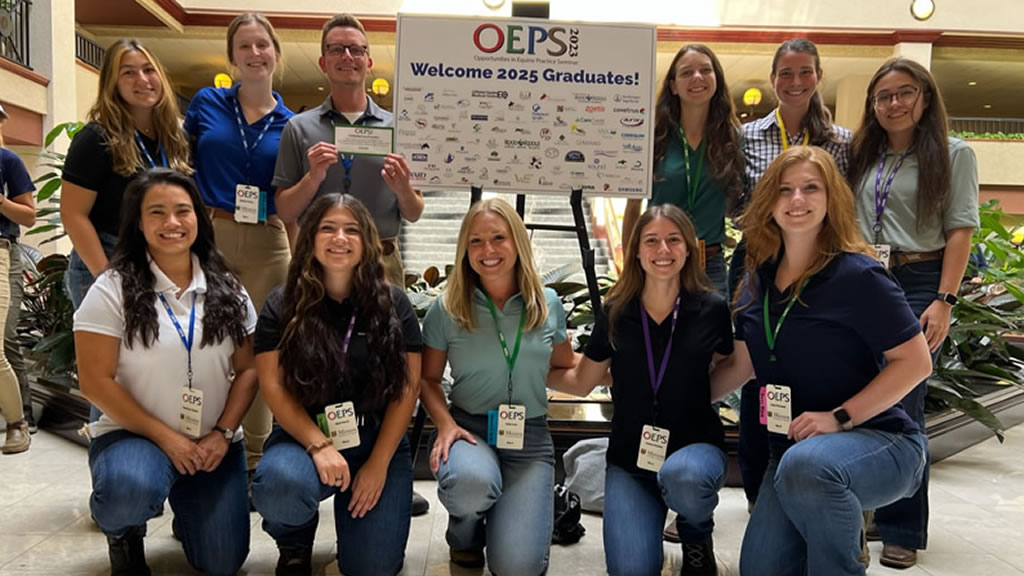 MU CVM student Gina Smith, one of the attendees, said the conference gave students a chance to learn more about equine medicine and the opportunity to connect with a variety of practices for potential externships.
"For me personally, it was a very valuable learning experience," said Smith. "I enjoyed each of the lectures that went over the different facets of equine medicine, as well as all the tours that allowed us to explore the equine industry in Kentucky. Having the chance to talk to different practices about their externship opportunities in-person was invaluable."
For the wet labs, students had a choice between colic exams, ultrasound labs, dental labs and lameness work ups. Each provided hands-on learning opportunities to practice clinical applications and diagnostics on live horses and models under the direction of some of the country's top equine practitioners.
While students at most veterinary colleges begin their clinical rotations in their fourth year, at Mizzou, students begin those rotations in their third year. Smith says that the chance to attend the conference as a third year gives students the advantage of having additional time to decide if they enjoy working in equine medicine. "It allows anyone who is on the fence about pursuing equine medicine to learn more about and see if it interests them," said Smith.
At the conference, students also competed in contests for prizes. Madison Porter represented Mizzou against 30 different veterinary schools in two competitions. Porter was victorious in both contests, earning $2,500 for the Mizzou Student Chapter of the Association of Equine Practitioners and a Littman stethoscope for each Mizzou student in attendance. Smith says the $2,500 will fund meetings and wet labs hosted by the club.
By Nick Childress