Published 9/22/2022
This past July, a group of students from the University of Missouri College of Veterinary Medicine traveled to Rooiberg, South Africa, with the goal of gaining hands-on experience in wildlife veterinary medicine and conservation. Students transitioning into their third year at the college had the opportunity to join the two-week externship.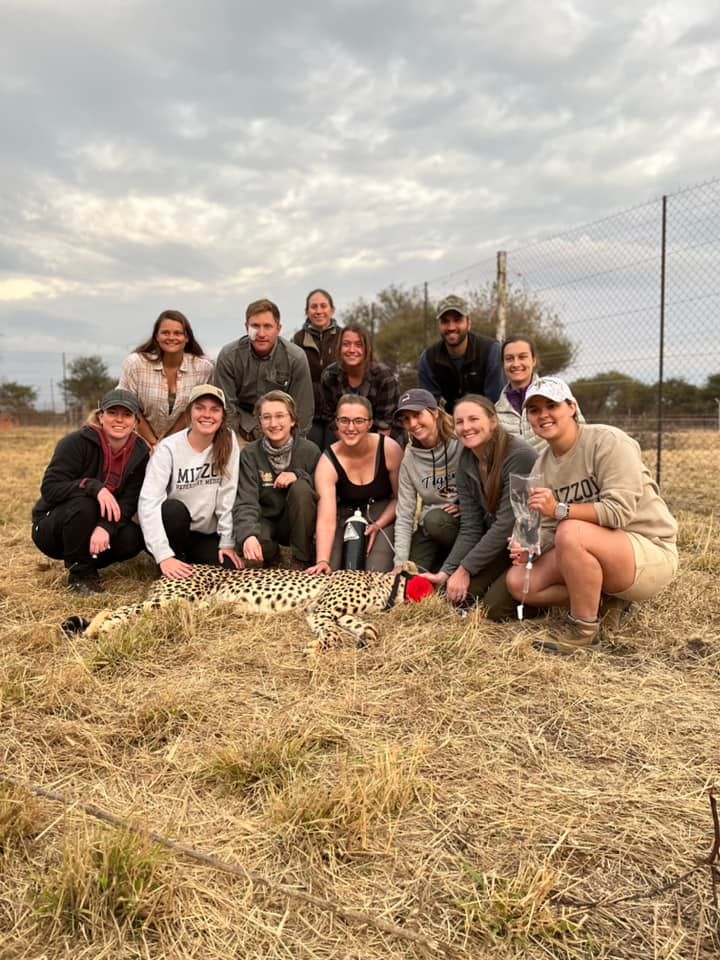 The group of 11 students worked with a variety of animals that they would not typically gain experience with during their veterinary education at Mizzou. "We mainly worked on Cape Buffalo and different types of antelope, such as roan and sable antelope, oryx, and black and white impala," said Cassie Berlin, a third-year veterinary student. "We were also fortunate to work with black and white rhinos, cheetahs, a giraffe, a wildebeest, goats and Ankole cows."
The trip was organized by Ron Cott, DVM, a CVM alumnus and the former associate dean for student and alumni affairs and executive director of advancement. Cott began organizing the Africa externships in 2010 when he was serving as associate dean. The venture became an annual event until Cott's retirement in 2018. He resumed organizing trips for student groups in 2019 as an independent venture separate from the college. COVID prevented students from traveling to Africa in 2020 and 2021.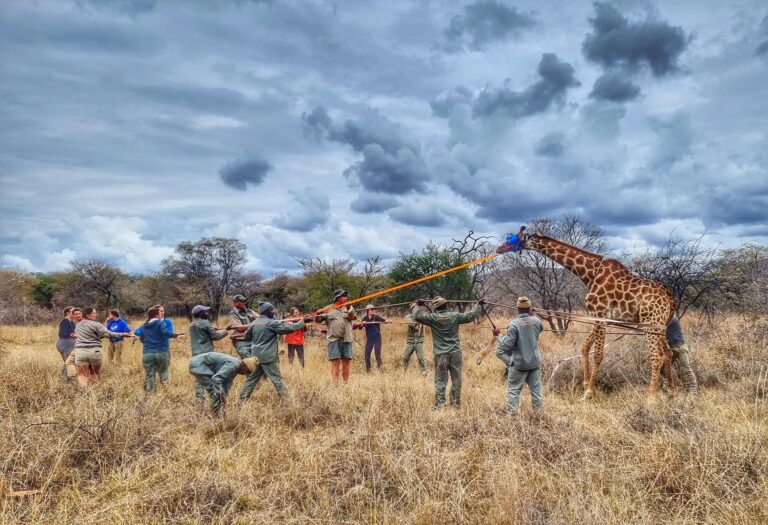 Berlin said Cott contacted her class to gauge their interest in visiting South Africa in the fall of 2021. "Dr. Cott organized the trip for us and has done it many times in the past for students at Mizzou," said Berlin. "Our group collectively figured out what we wanted to do with our time there, as well as fundraising. We had monthly meetings to stay up to date, especially with new COVID vaccine policies."
Andy Fraser, the local wildlife veterinarian who worked with the group, aimed to ensure the students gained as much hands-on experience as possible. Student Leigh Coonelly said their duties were always changing. "Every day was something different," said Coonelly. "We were often tasked with administering vaccines and other preventive injections, as well as practice in safely restraining the animals, applying topical anti-parasitic medications, taking rectal temperatures, ear tagging, drawing blood samples, pregnancy checking, and reversing the immobilization drugs so the animals could wake up and be on their way."
Coonelly praised their local mentor. "Dr. Fraser, the South African veterinarian who worked with and mentored us, was so knowledgeable and a wonderful teacher," said Coonelly. "I learned so much about how to safely interact with and treat very large and potentially dangerous wild animals, and how this safety is important to both the animals and the humans working with them."
The range of exotic animals created learning opportunities for students that otherwise may have been unavailable. Student Amy Wilhelm detailed some of these opportunities. "I learned about wildlife management, conservation efforts such as dehorning rhinos, drug selection for sedation of a variety of animals, how to wield a CO2-powered dart gun, which diseases are prevalent in the populations we were working with, and so much more," said Wilhelm.
"I know it's cheesy to say, but I truly believe this trip changed my life," said Berlin. "I have dreamed about traveling to South Africa to work with the beautiful wildlife since I was 7 years old, and this trip was beyond what I could have imagined. It's hard to remember why you entered veterinary school with all the stress we deal with on a daily basis, but this trip was exactly the reminder I needed to keep pushing myself."
"To me, this trip meant getting the opportunity to expand my veterinary curriculum in a hands-on manner," said Wilhelm. "It also allowed me to travel to a new country and experience a new culture, thereby becoming a more educated, well-rounded individual."
"This trip was truly amazing," said Coonelly. "Every day I found myself wondering if it was real. The country and its animals were so beautiful, and the people we met were beyond gracious and kind to us. I got so much more hands-on experience than I ever expected and did things that not many people get to do. I'm so grateful to be part of the veterinary profession where we get the opportunity to work with such amazing animals and people."
By Nick Childress