Published 6/05/2023
Don Connor, MU's longest-serving staff member, and Christian Lorson, Curators' Distinguished Professor and CVM Associate Dean for Research and Graduate Studies, were named recipients of the 2023 CVM Dean's Impact Awards on May 31. The awards, established in 1993, honor faculty, staff and individuals from outside of the college for sustained and significant positive impact on CVM programs.
Connor, a senior multimedia specialist for the CVM, worked at the university for more than 55 years. He retired June 1, the day after receiving the Impact Award presented to a staff member.
"For over 50 years Don has been here to provide photographic and illustrative assistance for teaching, publication, and other internal needs," according to his nominator, Professor and Director of Small Animal Emergency and Critical Care Tony Mann, DVM, MS. "I recall him helping me make slides for my presentations as an intern in 1982-1983, and he has been extremely helpful to me during my 35 years as a faculty member."
In announcing the award, Henry praised Connor's commitment to lifelong learning, noting that the tools required for his work had continuously changed during the decades he served the college.
Lorson received the Impact Award for a member of the faculty. Several individuals nominated Lorson, praising his research as well as his research leadership at the college and university levels.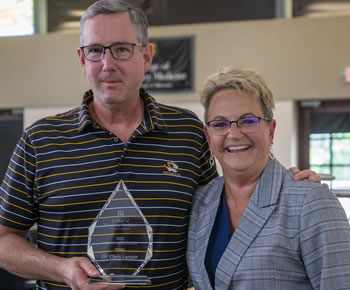 "As the Associate Vice Chancellor for Research and Strategic Initiatives, his role is to augment current research centers, develop plans for new strategic centers of excellence in research and creative works, support the Research Core Facilities, coordinate with departments and colleges to recruit faculty for strategic research objectives and drive new initiatives that will enhance MU's Association of American Universities research mission," read one nomination letter. "He has shown amazing success on all these fronts. As part of the Mizzou Forward initiative, Chris sent 200-plus recruitment letters to prospective faculty candidates on behalf of Mizzou Forward. He met with/interviewed approximately 65 Mizzou Forward candidates for all colleges across MU and helped recruit/hire five new outstanding CVM faculty members."
"He is an incredibly productive and innovative researcher, serving as mentor to a long line of successful graduate and professional students," another letter read. "He is a highly valued sounding board for junior faculty navigating research careers."
Lorson in turn, thanked his lab colleagues for the honor. "None of this happens without it being a team effort," he said.