Published 8/14/2023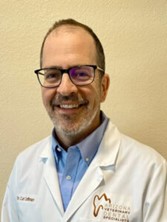 Curt Coffman, DVM, FAVD, DAVDC, a 1993 graduate of the University of Missouri College of Veterinary Medicine, was recently named to the dvm360 2023 Class of Veterinary Heroes in the category of dentistry. The Veterinary Heroes Recognition Program celebrates the achievements of outstanding veterinary professionals who are advancing the field and making a difference in animal care. Coffman was nominated by peers and selected for the recognition by a committee of veterinary professionals. Along with other recipients, he will be honored Aug. 24 prior to the Fetch dvm360 Conference in Kansas City.
Since his graduation from the MU CVM in 1993, Coffman has worked at a private practice in Tempe, Arizona. He has been a member of the Arizona Veterinary Dental Specialists for more than 20 years and became an American Veterinary Dental College board-certified veterinary dentist and a fellow of the Academy of Veterinary Dentistry.
Coffman is currently working on a new venture, serving as the national director for Thrive Pet Healthcare, leading its Dental Growth Program. This has allowed him to travel across the country educating doctors and technicians about oral health at Thrive hospitals. Coffman also serves as a consultant and dental instructor for several veterinary schools.
"When you get recognized by your own profession that means a lot to me," Coffman said. "It's your peers, and that's one of the things that really hit home with me, so I am very thankful for an award like this."
By Nick Childress