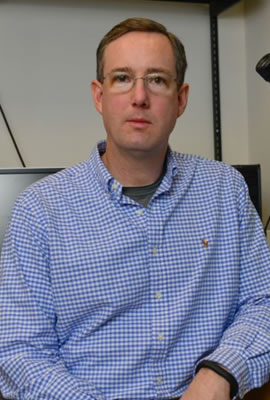 Research programs in the MU College of Veterinary Medicine contribute to the advancement of science and significantly enhance the quality of professional education. Participation by students provide a clearer understanding of disease processes, methods of prevention, and treatment of diseases of animals and humans.
Members of the veterinary medical profession, because of their versatility of training, can work in a variety of research areas such as: infectious and noninfectious diseases of livestock, poultry and companion animals, zoonoses (diseases transferred from animal to human), reproductive biology, comparative anatomy, physiology, pharmacology, pathology, neoplasia, laboratory animal medicine, veterinary public health, environmental health, radiation biology, clinical research and drug evaluation, and nutritional studies.
College research projects are supported by federal grants, state funds, foundation awards and grants, contracts from industries, livestock producer association funds, and money from other groups.
Veterinary medical students can arrange to actively participate in research programs. In some cases, it is possible for professional DVM students to have dual enrollment for the DVM degree and the master of science degree. The general requirements for advanced degrees are published in the Graduate Catalog.
Departments establish specific requirements and will somewhat vary for individual students. Students are urged to consult with appropriate faculty about prerequisites and a special degree program. Those contemplating this program should recognize that it may require a one-year interruption of the professional curriculum or one additional year to complete the master of science degree.