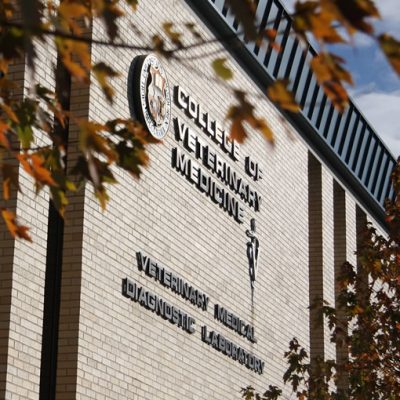 Joseph Haught, MS 1960, DVM 1964, is a graduate of the University of Missouri College of Veterinary Medicine. While he has traveled to North Carolina, Louisiana and New Jersey for work, and now lives in Arizona, he has never forgotten his experiences with Mizzou.
When he was graduating with his bachelor's degree from West Virginia University, he wasn't sure what he wanted his future to look like. His first thought was to pursue a master's degree and he was pointed toward MU. "There were a few people on the faculty at West Virginia who had gotten their PhDs at Missouri, and they spoke in rather laudatory tones about how they felt about the school," said Haught.
Upon his arrival at Mizzou, he continued to pursue that master's degree, but eventually he saw another opportunity. "I didn't even know Missouri had a veterinary school when I arrived," he said. "I took one or two courses in which the veterinary students were also a part of. I thought if these guys could do it, maybe I can to."
At that point he applied for the veterinary program and was accepted. "It was fairly easy at that time. If it had been two or three years earlier, it would have been very difficult to get in," he said.
As a recently married couple, Haught and his wife moved from West Virginia to Columbia, Missouri where they lived in married student housing. He began attending classes, and was able to earn his DVM degree in 1964.
Haught expressed his appreciation for the CVM and wants to give back to the school whenever he can. "I was very thankful that I was able to get my DVM degree from the University of Missouri because they really didn't owe me anything," said Haught. "I struck up a lot of friendships while I was in vet school, so I've had the feeling ever since that I would like to help."
Haught knows that donating to the school is something that feels right. "It's something that I've thought about, and I'm in a position to be able to give financial help at various times," he said. "I just feel good about doing it."
Over the years, Haught has become a long-time donor to the school, with his first donation coming to the CVM in 1977 and his most recent being in February 2020. He specifically donated to the Veterinary Medical Diagnostic Lab, and when asked about his connection to the lab he simply said, "Actually, I have no connection with it at all. I just think it's a great idea."
By Nick Childress