Published 7/20/2023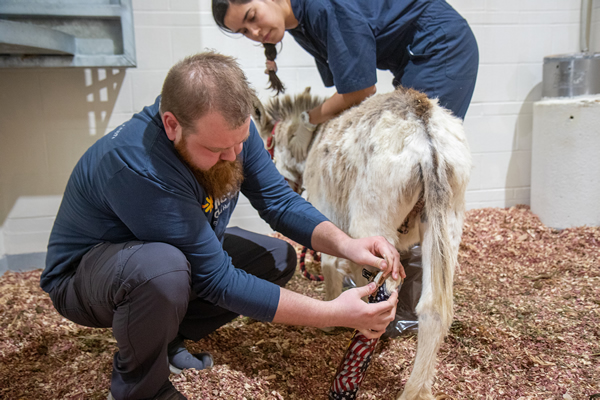 Peaceful Pastures Donkey Rescue Lincoln, Missouri, takes in abused, neglected, malnourished, ill and elderly donkeys and provides them with medical, nutritional and emotional rehabilitation before adopting them to loving homes. Beth Hakala, a physician and the executive director and founder of Peaceful Pastures, recently rescued a miniature three-legged donkey named Danny.
"Danny was up for auction in Oklahoma," said Hakala. "A kill pen purchased him and someone who frequently watches their page and tries to help animals out of that kill pen contacted me and told me that there was a donkey that needed my help. I made arrangements to leave work after a 24-hour shift to go down to Stroud, Oklahoma, to pick up Danny. I brought him home in the back seat of my truck."
Hakala noticed that one of Danny's hind limbs had been amputated about halfway down his leg for a significant period of time leaving his left hind leg muscles atrophied due to underuse. She made an appointment at the University of Missouri College of Veterinary Medicine to have Danny examined. Hakala reached out to Kevin Keegan, DVM, MS, DACVS, a professor of equine surgery at the CVM, and within a few days they decided that the plan would be to get Danny a prosthetic leg. "I have a local veterinarian as well, but if it is a severe case I turn to MU," said Hakala. "I've brought multiple donkeys to Columbia that I can credit the equine staff with saving their lives. The communication is good, their treatment is great, and Danny isn't actually the first orthopedic case that they have helped us with."
When it came to fitting and molding the prosthesis for Danny, the equine staff turned to the Hanger Clinic ─ a company with more than 900 locations nationwide ─ that creates customized prostheses, primarily for people, but also animals. Brandon Jones, a prosthetist and orthotist for Hanger in Columbia, was tasked with working on Danny's new leg. A graduate of Mizzou, Jones said that he hadn't had a lot of experience working with animal prosthetics before, but the many similarities between our anatomy and that of an animal made the transition easy. "I went to school to learn about human anatomy," said Jones. "I have some experience making prosthetic legs for a few dogs during my residencies in Florida. The process is very similar to the process for fitting a human."
According to Jones, this was the first time the Hanger Clinic was involved in fitting a CVM client in more than 15 years, when another clinician from his office worked with Keegan on a prosthetic leg for a draft horse.
The process of customizing Danny's prosthetic leg began with Jones taking measurements of his limb, and subsequently taking a fiberglass cast so that he could create a model of his residual limb. Once that was filled with plaster, he could modify it to offload certain areas and control where weight-bearing pressures are applied. From there, a plastic version of the socket was created so that an initial fitting on Danny's leg could be completed. Jones said when they were happy with that, they began to fabricate the final product, which included making a carbon fiber exterior for strength and weight reduction, as well as creating a hoof-like footing out of shoe soling. Finally, they needed to make sure that the entire exterior was enclosed to prevent nooks that could collect dirt and grime.
"The hard part in working with an animal is compliance in wearing it and checking his skin after he has worn it for a while," said Jones. "We want the leg to be comfortable and not rub any sores, but he cannot communicate his pain with us. The solution is frequent and consistent monitoring of his limb in the first few weeks of use and adjusting as needed. Keeping the leg on him is also an interesting concern, so we went with leather straps and buckles."
After monitoring by the team at the Veterinary Health Center, Danny was able to return to Peaceful Pastures. Hakala says that Danny is still getting comfortable with his new leg, but he can walk and put weight on it. "We're still working out a few kinks," said Hakala. "I think once he gets his muscle structure built back up, he's going to be running the fields."
As a bonus, Hakala says that through his time at the CVM, Danny has become more social and friendly toward people. He has also reached a healthier weight since his rescue. In the meantime, Hakala and the staff at Peaceful Pastures continue to update their Facebook page with each step of Danny's progress.
"I really appreciate that the MU equine department has done for us," said Hakala. "We have several donkeys that owe their life to them, and they have just been fantastic. I can't say enough good things about them."
By Nick Childress