Richard Hodge and his wife, Marti, from Kansas City, are donors to the University of Missouri College of Veterinary Medicine. Unfortunately, it was a complication with Richard's horse, Mooney, that familiarized them with Mizzou CVM.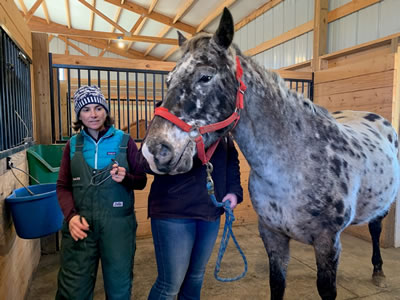 Mooney had equine protozoal myeloencephalatis, a disease that affects a horse's central nervous system. According to the American Association of Equine Practitioners, the disease mainly affects the brain or spinal cord, and is caused by protozoan organisms.
It was the response by the veterinary students and Alison M. LaCarrubba, DVM, DABVP-Equine, that warmed their hearts. "Rich and the guy who farms for us loaded Mooney up in the middle of a rainstorm," said Marti Hodge. "They showed up at MU and all those students and Dr. LaCarrubba were there. They came out in the rain and got that poor horse into a stall and immediately started to care for Mooney. They knew how important he was to us."
Sadly, Mooney was unable to recover from EPM, but the Hodges were sold on the care that the CVM provided their horse and have made return visits with other horses.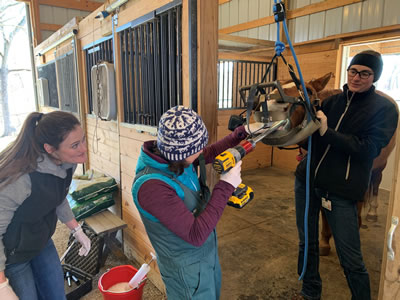 Richard Hodge is not a Mizzou alumnus, but as a born-and-raised Missourian, he wants to show support for the program that has cared for his horses. "We grew up on my grandfather's farm in Fayette, as kids riding and falling off of horses," he said. "When I got acquainted with the vet school, and the people and services provided there, I just started seeing a place where I felt like I could be of assistance."
As longtime horse owner, Hodge sees Mizzou's equine hospital as a place that is worth donating his resources. The Hodges specifically donate their money toward equine supplies, including dental equipment and other accessories for horses. "My donations have gone towards definite purposes," he said. "We focus on what we're doing with the donations."
While the Hodges usually donate toward specific items, Richard Hodge also has an equine focused fund in his name.
By Nicholas Childress