Published 9/22/2022
Cancer research will get a boost in Missouri through a new collaboration between Siteman Cancer Center and MU Health Care's Ellis Fischel Cancer Center in Columbia. The aim is to improve cancer care throughout Missouri. Siteman is based at Barnes-Jewish Hospital and Washington University School of Medicine in St. Louis.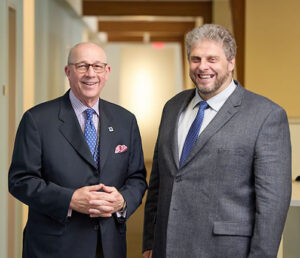 A major focus of the collaboration involves scientists at both institutions teaming up on research projects and jointly pursuing competitively funded research grants, including those supported by the NCI of the National Institutes of Health (NIH). The collaboration also will enhance efforts in cancer prevention.
Siteman Cancer Center is the only National Cancer Institute (NCI)-designated Comprehensive Cancer Center in Missouri. Such comprehensive cancer centers meet rigorous standards for cutting-edge research across multiple disciplines with the goal of developing new and improved methods to diagnose, treat and prevent cancer. Since 2015, Siteman also has held NCI's highest rating – "exceptional" – based on a rigorous review of its research programs.
"The Siteman and Ellis Fischel cancer centers are dedicated to improving the health and wellness of Missourians by advancing the science that informs cancer diagnosis, treatment and prevention," said Siteman director Timothy J. Eberlein, MD, the Spencer T. and Ann W. Olin Distinguished Professor and Senior Associate Dean for Cancer Programs at Washington University School of Medicine. "We can accelerate such efforts through the integration of our respective expertise in conducting clinical, translational, basic and population-based cancer research and training. The ultimate goal of this relationship is to maximize the cancer research capabilities at both centers and improve the health of the citizens of Missouri."
Ellis Fischel Cancer Center, Missouri's only state-designated cancer center, is accredited as an Academic Comprehensive Cancer Program by the Commission on Cancer, an American College of Surgeons quality program that recognizes health systems for ensuring their patients receive high-quality, coordinated care.
"By linking these institutions, the combined research teams will maximize their distinct strengths and collaborate in new ways to create a bigger impact than either could achieve independently," said Richard J. Barohn, MD, Executive Vice Chancellor for Health Affairs and Dean of the MU School of Medicine. "We are excited to engage our world-class clinicians and scientists from the University of Missouri's entire research enterprise, including the MU Research Reactor and the Roy S. Blunt Next Gen Precision Health Building to make this collaboration with Siteman Cancer Center a successful endeavor that benefits all Missourians."
The new relationship also will foster more collaborations between researchers investigating cancer in people and veterinarians treating cancer in animals. The University of Missouri College of Veterinary Medicine is one of the top veterinary medicine programs in the country, with tremendous experience treating cancer in animals and conducting comparative oncology research to help translate animal research to human studies.
"Ellis Fischel Cancer Center is associated with trust, and excellence in clinical care and research. Collaborating with Siteman Cancer Center will strengthen our ability to conduct more lifesaving research and bolster our clinical programs," said Gerhard Hildebrandt, MD, director of Ellis Fischel Cancer Center and chief of hematology/oncology and Nellie B. Smith Endowed Chair of Oncology at the MU School of Medicine. "Together with our NextGen Precision Health initiative, we will be able to save and improve more lives through theranostics, comparative oncology, cancer prevention and control, and immunotherapy. There is no limit to how we can improve the lives of individuals across our state in our fight to prevent and treat all forms of cancer."
According to Washington University's Bettina Drake, PhD, MPH, a professor of surgery in the Division of Public Health Sciences, the University of Missouri Extension – which has an office in every county across the state – provides a vital resource connecting cancer researchers and cancer prevention specialists to people in rural communities who don't always have access to care because they live far from major health centers.
"Access to cancer care is a problem in many rural areas of the state," said Drake, who is helping lead these outreach efforts. "Working with an institution like the University of Missouri, which has connections throughout Missouri, will help us identify barriers to care and develop strategies, resources and policies that we can implement to alleviate those barriers. University of Missouri Extension offices are already established in every county, and we look forward to opportunities to collaborate on community activities related to cancer prevention and screening, whether it's a cancer prevention education program or a mammography screening event."
The collaboration will expand access to Siteman's 8 Ways to Prevent Cancer campaign and widen distribution of information about Your Disease Risk™, a tool that helps estimate an individual's risk of developing cancer. The outreach program's goals include expanding knowledge about and access to important screening tests, including those that can provide early detection of cervical, breast, prostate, colon and lung cancers.