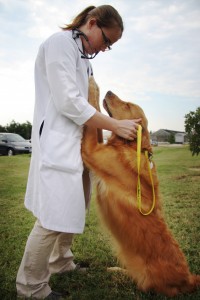 The University of Missouri College of Veterinary Medicine is the only institution of its kind in the state and one of only 32 in the nation. The MU CVM not only provides the most advanced animal medical treatment possible, but it also advances our understanding of diseases affecting animals and people. Through its research mission, CVM faculty collaborate with colleagues in agriculture, human medicine and other scientific disciplines.
Students at the College of Veterinary Medicine graduate with an average debt load of just under $162,000; below the national average of $172,000, but still a sizable sum. To encourage the best and brightest students to attend MU and remain competitive with other veterinary colleges, we need to ensure sufficient scholarship funding is available. The Gentle Doctor Benefit Endowed Scholarship Fund better enables the College of Veterinary Medicine to meet the goal of providing scholarship opportunities to as many students as possible.
In recent years, tuition has risen beyond the rate of inflation, in part due to state budget cuts. In order to face the challenges posed by these strict budget cuts, the MU College of Veterinary Medicine must find additional sources of funding. Your support for the Gentle Doctor Benefit allows the College to maintain its technological edge and push forward with its strong tradition to teach, heal, discover and serve.