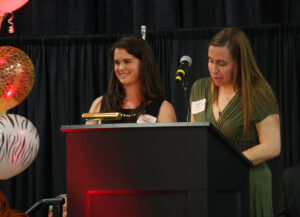 Each year, hundreds of applicants are interviewed for acceptance into the University of Missouri College of Veterinary Medicine. During that interview process, the prospective students are "scored" in a number of different areas including scholastic achievement, participation in extracurricular activities, and involvement in the veterinary profession. It is this score in conjunction with financial need that is used to award scholarships to our students.
The Gentle Doctor Scholarship is awarded to first-year students for two reasons. First, there are fewer scholarship opportunities for first-year students than there are for upperclassmen. Most scholarships are based on factors determined after the students have completed their first year, such as area of interest or scholastic ability in veterinary school. Second, by providing more opportunities to incoming students, the MU College of Veterinary Medicine is in a better position to compete with other veterinary colleges to get the best and brightest students. Some of the most promising students receive more than one offer of acceptance to veterinary school, and frequently the scholarship package they are awarded has a direct impact in determining which school they choose. The Gentle Doctor Scholarships help make the University of Missouri even more attractive to these bright students.
We hope to continue to grow the Gentle Doctor Scholarship endowment so that we can offer more scholarships each year to deserving veterinary students.