University of Missouri College of Veterinary Medicine first-year students Anna Divin and Corynn Lewis are this year's recipients of Gentle Doctor Benefit scholarships. The interest from the Gentle Doctor Benefit endowment provides significant scholarships to two incoming students. Additionally, the college provides $100 scholarships to each member of the incoming class.
Anna Divin
Anna Divin, a native of Webster Groves, Missouri, is interested in a career as a mixed animal practice veterinarian, as well as emergency medicine. While pursuing her undergraduate degree, Divin shadowed at a mixed animal practice and participated in extension work. Since 2020, she has also worked at the Webster Groves Animal Hospital, where she has gained experience in emergency medicine. "I absolutely love the fast pace and reward of emergency medicine," said Divin.
While Divin relocated to Mississippi for her undergraduate degree, there were numerous factors that contributed to her decision to return to Missouri and attend the MU CVM. "I chose Mizzou because I know countless veterinarians who graduated from here and have raved about the program," Divin said. They also have the two plus two program, which only one other CVM offers. In-state tuition was another factor, and I get to be close to home."
Divin's love for animals started early. She was only 4 years old when she was already asking for a "real dog" for Christmas. She loved searching for lizards and worms, and her great grandfather and great uncle introduced her to their beef cattle farm operation and took her horseback riding in the summer. This love for animals has continued throughout Divin's life, but once she was old enough to seriously pursue her dream of working in veterinary medicine, there were individuals who tried to dissuade her. "As I got older, I was almost discouraged from pursuing a career in veterinary medicine," said Divin. "College professors are very quick to tell you just how much the odds are against you when you apply to vet school. This just drove me to get as many experiences as possible during my undergraduate research."
Divin participates in numerous clubs at the CVM, including Camelid Club, Shelter Medicine Club, Bovine Club, Theriogenology Club, Swine Club, WLVDI and SAVMA. Her involvement does not stop there, as she is a part-time employee at Mizzou's swine unit and an ICU dog walker at the Veterinary Health Center. Divin also participates as a Purina Student representative and a student ambassador for the CVM.
In her free time, Divin enjoys hiking around Columbia, reading, binge watching TV, baking and spending time with her friends and family.
Divin says that receiving the scholarship means a great deal to her and affirms the fact that she belongs at the CVM. "The summer coming into vet school is very intimidating," said Divin. "I was constantly thinking about how hard it was going to be and how everyone was going to be much smarter than me. When I read the email naming me a recipient of the scholarship, I was so surprised, excited and thankful. It is such a large sum of money and only given to two students, which really made me feel validated and much more confident coming into my first year as a veterinary student."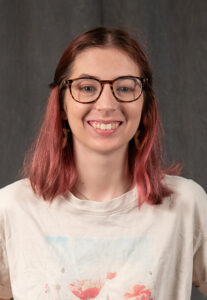 Corynn Lewis
Corynn Lewis is a native of Lambertville, New Jersey. She has not settled on which path she wants to take in veterinary medicine but is interested in a mixed animal practice with sheep and goats, gross pathology and public health. Lewis wants to experience a multitude of disciplines before deciding how she will apply her DVM degree and is currently working as a student technician for the Clinical Pathology Service at the VHC.
It was the ability to pursue many different areas of medicine that attracted Lewis to the MU CVM, as well as the opportunity to establish residency, spend more time in clinics, and the non-tracking curriculum. "I wanted to get experience in as many areas of veterinary medicine as possible," said Lewis. "That way I can narrow down my choices of what area I would like to go into, but also so that I would have real experiences outside of whatever specialty I might pick."
Growing up, Lewis raised goats in 4-H and was exposed to animal science. Her love for the profession grew from there. She had an interest in biology and was always curious about how things worked, and why certain animal husbandry practices were so important. These factors helped Lewis decide that animal science was something that she wanted to pursue. "I continued to shadow and work with veterinarians and knew that I wanted to work in the profession," she said. "While I enjoyed being an assistant, I felt like I wanted to understand physiology and medicine on a deeper level, so veterinary school felt like the obvious next step. While it's stressful and challenging, it is such a privilege to have the opportunity to learn. I know that it is something I have always wanted to do and I'm exactly where I need to be."
Lewis' job as a student technician consists of her responding to emergency calls for bloodwork at night and on weekends. She says she is grateful for the job, not only because understanding clinical pathology lab techniques will make her a better veterinarian, but because everyone in the service is supportive and positive. "I'm truly lucky to be a part of the team," said Lewis.
Outside of school and work, Lewis enjoys hanging out with her cats, Timothy and Biddie, who are the most clingy and affectionate animals she has ever owned. She also engages in fiber arts, such as spinning yarn and needle felting, which are interests she picked up while in 4-H. "It provides a necessary break from school to connect with other fiber artists and apply my brain to other things like color theory and textile science," she said.
Lewis says that the GDB scholarship means a lot to her and illustrates the importance of the CVM community. "While I have always wanted to become a veterinarian, I have also felt that the financial burden of a veterinary education may hold me back," said Lewis. "During many parts of my college career I truly questioned how I would afford it or if I was going to make it. Being granted this scholarship helped to lift some of that burden and I am so grateful. It reminds me that veterinary medicine is a team sport, and I hope that I can volunteer in the years to come and give back to this organization for other students and the veterinary program."
By Nick Childress