About Cisco
Cisco, a 7-year-old Italian greyhound, was the unforgettable canine family member of Mark Dickherber and Stephanie Hoff of Chesterfield, MO. Fun-loving, mischievous and the best hug-giver, Cisco was a wonderful and cherished member of the family.
In 2009, Cisco acutely developed immune-mediated hemolytic anemia (IMHA) and despite heroic efforts lost his battle to this devastating disease. Cisco's legacy lives on as his life inspired the foundation of a fund intended to help other dogs suffering from this and related immune-mediated diseases.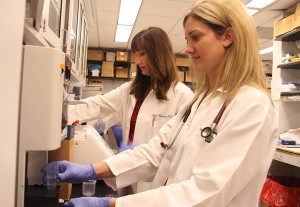 Cisco Fund for Immunologic Research
After losing Cisco, Mark Dickherber and Stephanie Hoff decided to channel their grief into helping other pets. To memorialize the memory of their beloved family member and to support research that would directly benefit canine health with an emphasis in advancing knowledge of immune-mediated disorders, the Cisco Fund for Immunologic Research was established in 2009 at the University of Missouri. Carol Reinero, DVM, DACVIM (SAIM), PhD, a professor and director of the Comparative Internal Medicine Laboratory at the University of Missouri, says the fund is instrumental in helping to conduct research into the immune mechanisms that drive IMHA and related disorders and to developing tools for evaluation of optimal and novel treatment regimens. Perhaps most importantly, the fund also assists in training the next generation of clinician scientists with the skills to establish their own research programs at other academic institutions or in private practice. Cisco's story has come full circle as his fund provided the training opportunity for a masters project for Laura Nafe, the fourth-year veterinary professional student who helped with Cisco's care in 2009. Dr. Nafe received her DVM from the University of Missouri in 2009, completed a rotating internship at North Carolina State University in 2010 and returned to Mizzou for a combined small animal internal medicine residency and master's program which she completed in 2013.
Dr. Nafe is now an Assistant Teaching Professor in Small Animal Internal Medicine at the University of Missouri. Caring for Cisco as her patient inspired Dr. Nafe to channel her efforts into learning more about helping dogs with IMHA and Cisco's Fund for Immunologic Research provided the funding to do so.
It is clear that veterinary community still has a long way to go to understand more about how these immune-mediated disorders arise and the best treatment strategies to help dogs that develop them. To this end, the current areas of research sponsored in full or in part by the Cisco Fund for Immunologic Research include: 1. Development of sophisticated immunologic assays to more specifically identify the underlying immune aberrations that occur in IMHA and ITP; 2. Application of these assays to dogs diagnosed but not yet treated for IMHA and ITP; 3. Development and application of pharmacodynamic assays to optimize and tailor immunosuppressive therapies in individual dogs with IMHA and ITP.
How You Can Help
---
Online donations may be made at the website below and following the instructions provided on that page. You will be able to select the "other" category for a designation of the gift that will allow you to write in "CVM Cisco Fund." https://donatetomu.missouri.edu/.
Checks may be made out to the University of Missouri with memo "CVM Cisco Fund" and mailed to the address below.
For further information or inquiries please contact:
College of Veterinary Medicine Office of Development
W210 Veterinary Medical Building
Columbia, MO 65211
Phone: (573) 882-0548