Etiology: Interstitial nephritis is the most common aging lesion in guinea pigs. Guinea pigs may develop chronic interstitial nephritis as a sequela to staphylococcal pododermatitis [1]. It has also been reported in animals with diabetes mellitus and hyperglycemia.
Incidence: Chronic interstitial nephritis is common in aged guinea pigs.
Clinical Signs: Clinically, no signs may be noted until end stage renal failure occurs; wasting, generalized edema, PU/PD, and proteinuria are then noted.
Pathology: Chronic nephritis is characterized by pitted, small, tan kidneys.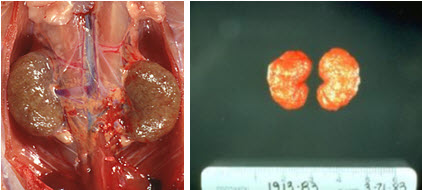 ---
1. Quesenberry, K.E., Carpenter, James W., Ferrets, Rabbits, And Rodents Clinical Medicine And Surgery2003, 11830 Westline Industrial Drive, St. Louis, Missouri 63146: Saunders.