Professor
Ph.D. 1993, University of Delhi, Delhi, India
M.Tech. 1987, Indian Institute of Technology Delhi, New Delhi, India
M.Sc. 1985, University of Delhi, Delhi, India
B.Sc. 1983, University of Delhi, Delhi, India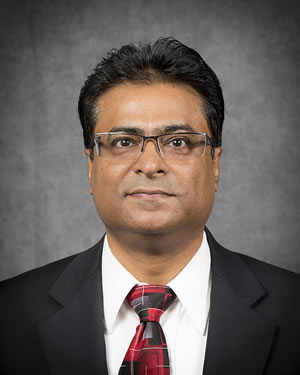 Building Address: Bond Life Sciences Center, 471-E
Phone Number: (573) 882-2339
Email: laxman.gangwani@missouri.edu
RESEARCH INTERESTS
Molecular Genetics, Neuron Biology, including Neurodegeneration and Neuron Regeneration, Spinal Muscular Atrophy (SMA), Amyotrophic Lateral Sclerosis (ALS), Alzheimer's Disease (AD), Transcription-coupled R-loops, DNA Damage and Repair, RNA Biogenesis, Molecular and Translational Medicine, Genetically Modified Yeast Models, Mouse Models of Neurological Diseases
The focus of Gangwani Lab research program is to understand the molecular basis of neurodegeneration associated with the pathogenesis of neurological disorders, including Spinal Muscular Atrophy (SMA), Amyotrophic Lateral Sclerosis (ALS) and Alzheimer's Disease (AD). Current research projects in the lab include: 1) Identification of modifier genes and validation using in vitro (patient derived cell-based models) and in vivo (mouse models) methods, including role of zinc finger protein 1 (ZPR1) as a protective modifier of ALS4. 2) The molecular mechanism of R-loop metabolism and the role of R-loops in genomic integrity and neurodegeneration. 3) Testing of small molecule drug compounds (JNK inhibitors) in SMA mouse model to develop SMN-independent treatment for SMA. 4) Impact of alteration in R-loop levels and genomic instability on the development of AD or AD-related dementia (ADRD)-like disease in a mouse model. 5) Study of biochemical functions of protein-protein complexes such as ZPR1-EF1A (translational elongation factor 1A) and ZPR1-Senataxin using newly created state-of-the-art mouse models to disrupt protein-protein interactions in specific cell types, including neurons. 6) Study of ZPR1 functions in R-loop metabolism, DNA Replication and genomic integrity using yeast model system in collaboration with Branzei lab (Institute of Molecular Oncology, Milan, Italy). The basic science research data are utilized for developing molecular and translational medicine approaches such as genetic (gene therapy) and pharmacological (small molecule drug compounds) methods to conduct pre-clinical studies using animal disease models.
SELECTED PUBLICATIONS
Gangwani, L ., Mikrut, M., Theroux, S.J., Sharma M. and Davis, R.J. (2001). Spinal Muscular Atrophy Disrupts the Interaction of ZPR1 with the SMN Protein. Nature Cell Biol. 3: 376-3831 (with News & Views , http://www.nature.com/ncb/journal/v3/n4/full/ncb0401_e93.html ).
Gangwani, L., Flavell, R.A. and Davis, R.J. (2005). ZPR1 is essential for survival and is required for localization of the Survival Motor Neurons (SMN) Protein to Cajal bodies. Mol. Cell. Biol., 25 (7): 2744-2756 ( highlightedwith Cover Photograph).
Doran, B., Gherbesi, N., Hendricks, G., Flavell, R.A., Davis, R.J. and Gangwani, L. (2006). Deficiency of the Zinc Finger Protein ZPR1 Causes Neurodegeneration.Proc. Natl. Acad. Sci. (USA), 103 (19): 7471-7475.
Gangwani, L. (2006). Deficiency of the zinc finger protein ZPR1 causes defects in transcription and cell cycle progression. J. Biol. Chem., 281:40341 -40353 ( highlighted with Cover Photograph).
Mishra, A., Gangwani, L., Davis, R.J. and Lambright, D.G. (2007). Structural insights into the interaction of the evolutionarily conserved ZPR1 domain tandem with eEF1A, receptors and SMN complexes. Proc. Natl. Acad. Sci. (USA),104 (35), 13930-13935.
Genabai, N.K., Ahmad, S., Zhang, Z., Jiang, X., Gabaldon, C.A. and Gangwani, L. (2015) Genetic inhibition of JNK3 ameliorates spinal muscular atrophy. Human Molecular Genetics, 24 (24), 6986-7004. Highlighted by regional, national and international News Media, including a TV channel interview.
Kannan, A., Bhatia, K., Branzei, D. and Gangwani, L. (2018). Combined deficiency of Senataxin and DNA-PKcs causes DNA damage accumulation and neurodegeneration in spinal muscular atrophy. Nucleic Acids Research, 2018, Vol. 46, No. 16, 8326-8346.
Kannan, A., Jiang, X., He, L., Ahmad, S. and Gangwani, L. (2020). ZPR1 prevents R-loop accumulation, upregulates SMN2 expression and rescues spinal muscular atrophy. Brain: 143 (1); 69-93. This study is highlighted by Scientific Commentary ( doi: 10.1093/brain/awz394 ).
Kannan, A., Cuartas, J., Gangwani, P, Branzei, D. and Gangwani, L. (2022). Mutation in senataxin alters the mechanism of R-loop resolution in amyotrophic lateral sclerosis 4. Brain. https://doi.org/10.1093/brain/awab464
PubMed link for publication:https://pubmed.ncbi.nlm.nih.gov/?term=Gangwani+L&sort=date