Associate Clinical Professor
One Health Section Head, Veterinary Medical Diagnostic Laboratory
MS – Kansas State University
PhD – Kansas State University
HCLD(ABB)
MT(ASCP)SBB
Building Address: Veterinary Science Building
Phone Number: 573-882-8539
Email: smmoore@missouri.edu
Lab Website: https://vmdl.missouri.edu/
RESEARCH INTERESTS
Rabies Diagnostics, Rabies Vaccines and Biologics, Clinical Laboratory test development/validation and quality assurance, Emerging Infectious Diseases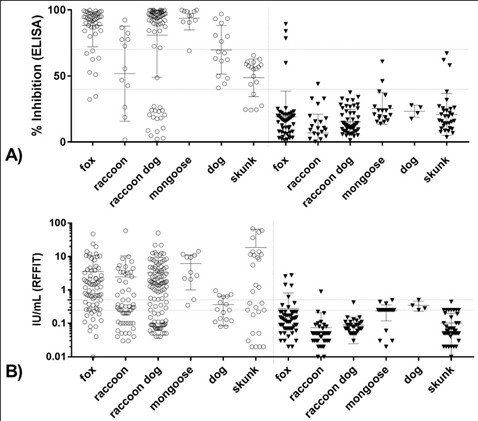 SELECTED PUBLICATIONS
https://www.ncbi.nlm.nih.gov/myncbi/susan.moore.3/bibliography/public/
Moore SM. Challenges of Rabies Serology: Defining Context of Interpretation. Viruses. 2021 Jul 31;13(8):1516. doi: 10.3390/v13081516. PMID: 34452381; PMCID: PMC8402924.
Briggs DJ, Moore SM. The Route of Administration of Rabies Vaccines: Comparing the Data. Viruses. 2021 Jun 27;13(7):1252. doi: 10.3390/v13071252. PMID: 34199111; PMCID: PMC8310204.
McClain JB, Chuang A, Reid C, Moore SM, Tsao E. Rabies virus neutralizing activity, pharmacokinetics, and safety of the monoclonal antibody mixture SYN023 in combination with rabies vaccination: Results of a phase 2, randomized, blinded, controlled trial. Vaccine. 2021 Sep 24;39(40):5822-5830. doi: 10.1016/j.vaccine.2021.08.066. Epub 2021 Sep 3. PMID: 34483020.
Smith TG, Fooks AR, Moore SM, Freuling CM, Müller T, Torres G, Wallace RM. Negligible risk of rabies importation in dogs thirty days after demonstration of adequate serum antibody titer. Vaccine. 2021 Apr 28;39(18):2496-2499. doi: 10.1016/j.vaccine.2021.03.064. Epub 2021 Apr 4. PMID: 33824040; PMCID: PMC8115987.
Raybern C, Zaldivar A, Tubach S, Ahmed FS, Moore S, Kintner C, Wallace RM, Mandra AM, Stauffer K, Condori RE, Garrison I. Rabies in a Dog Imported from Egypt – Kansas, 2019. MMWR Morb Mortal Wkly Rep. 2020 Sep 25;69(38):1374-1377. doi: 10.15585/mmwr.mm6938a5. PMID: 32970659; PMCID: PMC7727499.
Moore SM. Rabies: Current Preventive Strategies. Vet Clin North Am Small Anim Pract. 2019 Jul;49(4):629-641. doi: 10.1016/j.cvsm.2019.02.014. Epub 2019 Apr 5. PMID: 30961994.
Timiryasova TM, Luo P, Zheng L, Singer A, Zedar R, Garg S, Petit C, Moore S, Hu BT, Brown M. Rapid fluorescent focus inhibition test optimization and validation: Improved detection of neutralizing antibodies to rabies virus. J Immunol Methods. 2019 Nov;474:112626. doi: 10.1016/j.jim.2019.06.017. Epub 2019 Jun 20. PMID: 31228423.
Moore SM . Rabies prevention: the role of serology in parenteral vaccination of companion animals and livestock. Rev Sci Tech. 2018 Aug;37(2):461-472. English. doi: 10.20506/rst.37.2.2815. PMID: 30747134.
Hassel R, Vos A, Clausen P, Moore S, van der Westhuizen J, Khaiseb S, Kabajani J, Pfaff F, Höper D, Hundt B, Jago M, Bruwer F, Lindeque P, Finke S, Freuling CM, Müller T. Experimental screening studies on rabies virus transmission and oral rabies vaccination of the Greater Kudu (Tragelaphus strepsiceros). Sci Rep. 2018 Nov 9;8(1):16599. doi: 10.1038/s41598-018-34985-5. PMID: 30413745; PMCID: PMC6226427.
Moore SM , Gilbert A, Vos A, Freuling CM, Ellis C, Kliemt J, Müller T. Rabies Virus Antibodies from Oral Vaccination as a Correlate of Protection against Lethal Infection in Wildlife. Trop Med Infect Dis. 2017 Jul 21;2(3):31. doi: 10.3390/tropicalmed2030031. PMID: 30270888; PMCID: PMC6082110.
Wallace RM, Pees A, Blanton JB, Moore SM. Risk factors for inadequate antibody response to primary rabies vaccination in dogs under one year of age. PLoS Negl Trop Dis. 2017 Jul 31;11(7):e0005761. doi: 10.1371/journal.pntd.0005761. PMID: 28759602; PMCID: PMC5552338.
Chao TY, Ren S, Shen E, Moore S, Zhang SF, Chen L, Rupprecht CE, Tsao E. SYN023, a novel humanized monoclonal antibody cocktail, for post-exposure prophylaxis of rabies. PLoS Negl Trop Dis. 2017 Dec 20;11(12):e0006133. doi: 10.1371/journal.pntd.0006133. PMID: 29261658; PMCID: PMC5754141.
Harvey AM, Watson JL, Brault SA, Edman JM, Moore SM, Kass PH, Wilson WD. Duration of serum antibody response to rabies vaccination in horses. J Am Vet Med Assoc. 2016 Aug 15;249(4):411-8. doi: 10.2460/javma.249.4.411. PMID: 27479286.
Wasniewski M, Almeida I, Baur A, Bedekovic T, Boncea D, Chaves LB, David D, De Benedictis P, Dobrostana M, Giraud P, Hostnik P, Jaceviciene I, Kenklies S, König M, Mähar K, Mojzis M, Moore S, Mrenoski S, Müller T, Ngoepe E, Nishimura M, Nokireki T, Pejovic N, Smreczak M, Strandbygaard B, Wodak E, Cliquet F. First international collaborative study to evaluate rabies antibody detection method for use in monitoring the effectiveness of oral vaccination programmes in fox and raccoon dog in Europe. J Virol Methods. 2016 Dec;238:77-85. doi: 10.1016/j.jviromet.2016.10.006. Epub 2016 Oct 14. PMID: 27751949.
Moore SM , Pralle S, Engelman L, Hartschuh H, Smith M. Rabies vaccine response measurement is assay dependent. Biologicals. 2016 Nov;44(6):481-486. doi: 10.1016/j.biologicals.2016.09.007. Epub 2016 Oct 7. PMID: 27726931.
Kostense S, Moore S, Companjen A, Bakker AB, Marissen WE, von Eyben R, Weverling GJ, Hanlon C, Goudsmit J. Validation of the rapid fluorescent focus inhibition test for rabies virus-neutralizing antibodies in clinical samples. Antimicrob Agents Chemother. 2012 Jul;56(7):3524-30. doi: 10.1128/AAC.06179-11. Epub 2012 Apr 30. PMID: 22547629; PMCID: PMC3393455.
Moore SM , Hanlon CA. Rabies-specific antibodies: measuring surrogates of protection against a fatal disease. PLoS Negl Trop Dis. 2010 Mar 9;4(3):e595. doi: 10.1371/journal.pntd.0000595. PMID: 20231877; PMCID: PMC2834733.
Moore SM , Wilkerson MJ, Davis RD, Wyatt CR, Briggs DJ. Detection of cellular immunity to rabies antigens in human vaccinees. J Clin Immunol. 2006 Nov;26(6):533-45. doi: 10.1007/s10875-006-9044-0. Epub 2006 Sep 9. PMID: 16964551.
Moore SM , Ricke TA, Davis RD, Briggs DJ. The influence of homologous vs. heterologous challenge virus strains on the serological test results of rabies virus neutralizing assays. Biologicals. 2005 Dec;33(4):269-76. doi: 10.1016/j.biologicals.2005.06.005. Epub 2005 Sep 15. PMID: 16168666.
Tims T, Briggs DJ, Davis RD, Moore SM, Xiang Z, Ertl HC, Fu ZF. Adult dogs receiving a rabies booster dose with a recombinant adenovirus expressing rabies virus glycoprotein develop high titers of neutralizing antibodies. Vaccine. 2000 Jun 15;18(25):2804-7. doi: 10.1016/s0264-410x(00)00088-8. PMID: 10812222.