Published 10/21/2022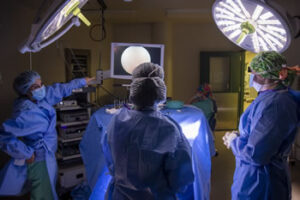 The work that veterinary technicians do is vital to the daily function of the University of Missouri College of Veterinary Medicine and veterinary medicine as a whole. The work itself is taxing, and unfortunately, clinics around the country often operate with a short staff and have high turnover rates when it comes to technicians. Since 2015, the CVM has offered a solution to combat this turnover through a career ladder. The career ladder provides techs who are interested with opportunities to be rewarded through promotions, earning a higher salary, and taking on more responsibilities.
Anastasia Glahn, RVT, a veterinary technician in the Veterinary Health Center's Oncology Service and the oncology nursing supervisor, has been a member of the technician staff for 13 years. When Glahn began at the Veterinary Health Center, the career ladder had not been implemented. She said that this lack of clear potential for advancement was a challenge for techs. "There weren't a lot of great options for technicians to advance personally or professionally," said Glahn.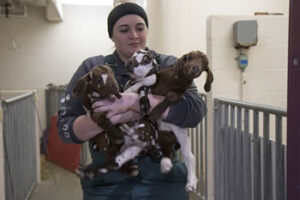 That's why, in 2015, the career ladder was put into place. The ladder created a yearly potential for promotion for veterinary technicians who had fulfilled certain requirements. There are four different levels on the career ladder based on the number of years employed at Mizzou and other achievements. According to Peggy Bryan, the hospital administrator of the VHC, these include being a licensed veterinary technician, continuing education, evaluations from faculty, competency requirements within each service section, presentations, publications, memberships in national and state vet tech associations and letters of recommendation.
The career ladder was initiated and driven by the veterinary technicians themselves, said Bryan. "It was based on some other schools that were doing a similar thing. The veterinary technicians actually got together and created the career ladder for us here."
This system provides encouragement and benefits. "It's important because it recognizes and rewards a commitment to their career," said Bryan. "A lot of our vet techs are in this for life. It helps encourage them to continue to get more education, to get better at their skills and they're recognized by advancing up the ladder, which also corresponds to a reclassification of title."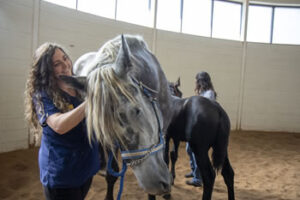 Reclassification of title comes with each of the four steps on the career ladder, which all have different requirements. The first level that most staff come in at is veterinary technician, with the following levels being senior veterinary technician, lead veterinary technician and veterinary technician supervisor. Technicians submit advancement packets once they have achieved a specific number of years at Mizzou and what they believe to be a sufficient amount of increase in responsibility for promotion, and these are reviewed on a yearly basis. The minimum service requirement for level two is three years, level three is five years and level four is 10 years.
"This is really the only way that techs can progress through those titles," said Bryan. "It does require that they complete these submissions, which is a big deal. It includes full binders of all their documentation, honors, awards, continuing education certificates, diplomas, letters of recommendation and other things compiled in a packet. Then those are reviewed by a committee that's made up of the hospital direct, hospital administrator, a small and large animal faculty member, and usually at least two veterinary technicians. Submissions also don't guarantee an automatic advance."
However, this year, all six people who submitted packets were promoted to the next level. Alyssa Ingerson, RVT, advanced from a veterinary technician to a senior veterinary technician, and Jamie Brueggeman, RVT, Darla Combs, RVT, Whitney Fahrendorf, RVT, Kiersten Gillman, RVT, and Rebecca Wiseman RVT, all advanced from senior veterinary technician to veterinary technician lead.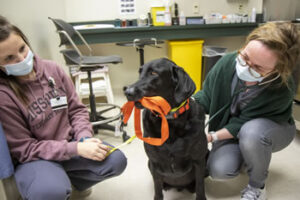 Glahn, who has progressed through to the fourth and final step of the career ladder through pursuing specialization in oncology and continuing her education in a variety of ways, says that it has been beneficial for her. "It's been really good for me personally and professionally," said Glahn. "It's one of the reasons that I pursued my veterinary technician specialization, because it was one of the ways to get to the top of the career ladder. The career ladder has certainly helped push me in looking at next steps and where I want my career to go. It really does create that empowerment for technicians to be able to look for that next step and not feel like they're stagnant. You definitely have that opportunity to grow in whichever way that you want to grow."
These benefits are just part of what the CVM is doing to encourage veterinary technicians to remain in the field. Additionally, the CVM has created an emphasis on the development of a larger pool of veterinary technicians. Through the creation of the Bachelor of Science in Veterinary Technology Program and a partnership with Moberly Area Community College to produce RVTs in central Missouri, the CVM is working to provide more opportunities for those who are interested in a pursuit a veterinary technician career.
Since the approval of the BSVT program in June 2021, it has focused on developing articulation agreements with numerous community college veterinary technician programs, including 25 that are out of state and all five veterinary technician programs in Missouri. Moberly Area Community College and Jefferson College, both partners of the BSVT program, provided letters of support for the award nomination.
Cindy Cravens, DVM, BSVT program director, says the established partnerships have provided opportunities for more students. "These agreements allow students' associate degree credits to transfer to Mizzou and count toward the first and second years of their bachelor's degree," said Cravens. "Additionally, the agreements facilitate collaboration between our BSVT program and various community colleges' associate of applied science programs, elevating the level of veterinary technician education nationally."
"Our partnership with MACC to produce registered veterinary technicians in central Missouri just started its second year," said Cravens. "The first cohort is training alongside our DVM students in the VHC and is progressing toward graduation this spring. Additionally, we developed the BSVT program to help RVTs stay engaged, providing quality advanced veterinary technician education that is clinically relevant and flexible. This program has met a definite need in the profession, and our fall 2022 enrollments are almost five times our first year."
By Nick Childress