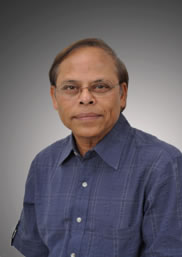 Building Address: 124 Connaway Hall
Phone Number: 573-882-4461
Email: RayB@missouri.edu

RESEARCH INTERESTS
My laboratory is interested in studying molecular basis of inflammation-induced diseases and our research has focused on arthritis and cancer. Our goal is to gather new information on the molecular events that are responsible for the pathogenesis of these diseases and to use this new knowledge to develop robust approaches for effective treatment. Abnormal gene expression, which plays a critical role in the pathogenesis of these diseases, is a major target of our investigation. These altered cellular events promote angiogenesis and cause metastasis in cancer, which have been an area of our research interests. Activation of transcription factors by signal transduction and epigenetic modulation of chromatin structure that influences assembly of regulatory proteins at the chromosomal genes are some of the crucial molecular events we have been investigating. Our studies have identified a novel transcription factor called SAF (serum amyloid A activating factor) which is over-active in many pathophysiological conditions and is believed to be responsible for abnormal expression of many pathology-linked genes.  We have extensively studied SAF protein's several structural features that play a pivotal role in its function and in the manifestation of disease state.  We have found that alternative splicing mechanism that gives rise to different SAF isoforms is linked to the pathogenesis. Activation of SAF by different signaling pathways involving MAP kinase, PKA, PKC and mTOR provides an opportunity to control its activity in the diseased tissues by interfering with the SAF activation pathways using different pharmacological inhibitory molecules.  We also explore gene silencing approach using siRNA, shRNA and CRISPR/Cas9 technologies to control abnormal gene activities associated with arthritis and cancer. Regulation of Ras oncogene expression is another area of our research interests. To develop a Ras-based therapeutic approach, we have focused on a novel network of activities of several transcriptional regulators that co-ordinate abnormal gene expression in breast cancer.  Our goal is to investigate these regulatory events that could lead to new therapeutic intervention in cancer therapy.
TEACHING
Molecular Biology
SELECTED PUBLICATIONS
Alalem, M, Ray, A. and Ray, B. K. (2016) Metformin treatment decreases mTOR mRNA level in MCF7 breast cancer cells. Ibnosina J. Med. Biomed Sci 99-108. journals.sfu.ca/ijmbs/index.php/ijmbs/article/viewFile/620/1183
Ray, A. and Ray, B. K. (2015) Induction of Ras by SAF-1/MAZ through a feed-forward loop promotes angiogenesis in breast cancer. Cancer Med. 2015 Feb;4(2):224-34. doi: 10.1002/cam4.362. Epub 2014 Nov 30
Ray, A., Alalem, M., and Ray, B. K. (2013) Loss of epigenetic Kruppel-like factor 4-histone deacetylase –mediated transcriptional suppression is crucial in increasing vascular endothelial growth factor expression in breast cancer. J Biol Chem. 2013 Sep 20; 288(38): 27232–27242.
Published online 2013 Aug 6. doi: 10.1074/jbc.M113.481184
Dannecker, E. A., Ying, L., R., Rector, S., Thomas, T. R., Sayers, S. P., Leeuwenburgh, C., Ray, B. K. (2013). The effect of fasting on indicators of muscle damage. Exp Gerontol. 2013 Oct;48(10):1101-6. doi: 10.1016/j.exger.2012.12.006. Epub 2012 Dec 22
Ray, B.K., Dhar, S., Henry, C., Rich, A. and Ray, A. (2013) Epigenetic regulation by Z-DNA silencer function controls cancer-associated ADAM-12 expression in breast cancer: crosstalk between MeCP2 and NF1 transcription factor family. Cancer Res. 2013 Jan 15;73(2):736-44. doi: 10.1158/0008-5472.CAN-12-2601. Epub 2012 Nov 7.
Ray, B.K., Dhar, S., Shakya, A. and Ray, A. (2011) Z-DNA-forming silencer in the first exon regulates human ADAM-12 gene expression. Proc Natl Acad Sci U S A. 2011 Jan 4;108(1):103-8. doi: 10.1073/pnas.1008831108. Epub 2010 Dec 20.
Ray, A., Dhar, S., and Ray, B. K. (2011) Control of VEGF expression in triple negative breast carcinoma cells by suppression of SAF-1 transcription factor activity. Mol Cancer Res. 2011 Aug;9(8):1030-41. doi: 10.1158/1541-7786.MCR-10-0598. Epub 2011 Jun 10
Dhulipala, V.C., Maddali, K.K., Ray, B.K., Welshons, W.V., and Reddy, C.S. (2011) Role of p21 and cyclin E in normal and secalonic acid D-inhibited proliferation of human embryonic palatal mesenchymal cells. Hum Exp Toxicol. 2011 Sep;30(9):1222-32. doi: 10.1177/0960327110387238. Epub 2010 Oct 18.
Ray, B.K., Dhar, S., and Ray, A. (2010) TGF-1 mediated activation of NF-B contributes to enhanced ADAM-12 expression in mammary carcinoma cells. Mol Cancer Res. 2010 Sep;8(9):1261-70. doi: 10.1158/1541-7786.MCR-10-0212. Epub 2010 Aug 5
Mukhopadhyay, S., Mukherjee, S., Ray, B.K., Ray, A., Stone, W.L., and Das, S.K. (2010) Antioxidant liposomes protect against CEES-Induced Lung Injury by decreasing SAF-1/MAZ-mediated inflammation in the guinea pig lung. J Biochem Mol Toxicol. 2010 May-Jun;24(3):187-94. doi: 10.1002/jbt.20329.
Kumar, D., Ray, A., and Ray, B.K. (2009) Transcriptional synergy mediated by SAF-1 and AP-1: critical role of N-terminal polyalanine and two zinc finger domains of SAF-1. J Biol Chem. 2009 Jan 16;284(3):1853-62. doi: 10.1074/jbc.M806289200. Epub 2008 Nov 21.
Ray, A., Dhar, S., Shakya, A., Ray, P., Okada, Y. and Ray, B.K. (2009) SAF-3, a novel variant of the SAF-1/MAZ/Pur-1 family, is expressed during inflammation. FEBS J. 2009 Aug;276(15):4276-86. doi: 10.1111/j.1742-4658.2009.07136.x. Epub 2009 Jul 3.
Ray, A. and Ray, B.K. (2008) An inflammation-responsive transcription factor in the pathophysiology of osteoarthritis. Biorheology. 2008;45(3-4):399-409.