Assistant Teaching Professor
D.V.M., Iowa State University
M.S., Biomedical Sciences, University of Missouri
Ph.D., Learning, Teaching, and Curriculum, University of Missouri
Diplomate ACVP (Clinical)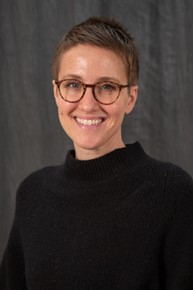 Building Address: A346 Clydesdale Hall
Phone Number: 573-882-6705
Email: hancockts@missouri.edu
RESEARCH INTERESTS
Dr. Hancock's primary research investigates the learning environment, socialization and identity, and inclusion and belonging with particular emphasis on mental health and well-being in the veterinary medical profession. She also collaborates with faculty and students on their educational research or scholarship of teaching and learning projects.
TEACHING
Dr. Hancock has multiple teaching roles in the CVM. She coordinates clinical pathology in the didactic and clinical DVM Curriculum (VPBIO 5578 & VPBIO 6647) and teaches communications and professional skills in various courses within the CVM (e.g., VET) and across MU's campus (e.g., GRAD 9001). Dr. Hancock is also the course coordinator for the online Veterinary Cytology course (BIOMED/V_TCH 4110 & VPBIO 7110) that is cross listed for several programs. Her work is learner-focused and has received several awards. Some of these recognitions include the Outstanding Young Alumni Award from Iowa State University College of Veterinary Medicine, the Alumnae Anniversary Award from the Department of Women and Gender Studies at MU, and the Dadd Award from University of Missouri College of Veterinary Medicine.
SELECTED PUBLICATIONS
For her most up to date list of publications, check her Google Scholar.
Flatland, B., Dehghanpir, S. D., Evans, S. J., Freeman, K. P., Grimes, C., Hancock, T., … & Viall, A. (2023). Guidelines for resident training in veterinary clinical pathology. IV: Laboratory quality management—Teaching domains, competencies, and suggested learning outcomes. Veterinary Clinical Pathology.
Cathleen Kovarik, M., & Hancock, T. S. (2022). Effectiveness of a Student-Developed Instructional Video in Learning the Anatomy of the Equine Distal Limb. Journal of Veterinary Medical Education, e20210167.
Hancock, T. S. , & Karaffa, K. M. (2022). "Obligated to Keep Things Under Control": Sociocultural Barriers to Seeking Mental Health Services Among Veterinary Medical Students. Journal of Veterinary Medical Education, 49(5), 662-677.
Karaffa, K. M., Bradtke, J. A., & Hancock, T. S. (2020). Embedded student counseling services: Insights from veterinary mental health practitioners. Journal of College Counseling, 23(3), 276-288.
Hancock, T. S. (2020). Embroidery as method: Stitching together narrative becomings and data. Journal of Education, 78, 97–115. DOI: 10.17159/2520-9868/i78a06
Karaffa, K., Bradtke, J., & Hancock, T.S. (2020). Embedded student counseling services: Insights from veterinary mental health practitioners. Journal of College Counseling, 23(3), 276-288. DOI: 10.1002/jocc.12171
Hancock, T. S. & Fontanella-Nothom, O. (2020). Becoming with/in flux: Pedagogies of sustainment (POSt). Qualitative Inquiry, 26(1), 81–88. DOI: 10.1177/1077800419874827
Birt, J. A., Khajeloo, M., Rega-Brodsky, C. C., Siegel, M.A., Hancock, T. S., Cummings, K., Nguyen, P. G. (2019). Fostering agency to overcome barriers in college science teaching: Going against the grain to enact reform-based ideas. Science Education, 103(4), 770-798. DOI: 10.1002/sce.21519
Hancock, T. S., Friedrichsen, P., Kinslow, A. K., & Sadler, T. D. (2019). Selecting socio-scientific issues (SSI): A grounded theory study of how science teachers collaboratively design SSI-based curricula. Science and Education, 28(6-7), 639-667. DOI: 10.1007/s11191-019-00065-x
Karaffa, K. & Hancock, T. S. (2019). Mental health experiences and service use among veterinary medical students. Journal of Veterinary Medical Education, 46(4), 449-458. DOI: 10.3138/jvme.1017-145r1
Karaffa, K. & Hancock, T. S. (2019). Mental health stigma and veterinary medical students' attitudes toward seeking professional psychological help. Journal of Veterinary Medical Education, 46(4), 459-469. DOI: 10.3138/jvme.1217-185r