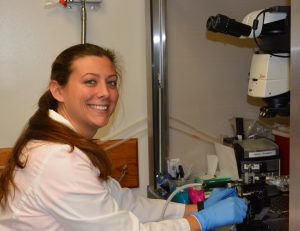 Trainees will be involved in all facets of the selected research project. The trainee, with the advice of the research mentor, defines a research focus and direction. Literature searches on related research and applicable technologies are performed, and initial experiments are planned. The trainee learns and adapts appropriate experimental techniques, performs the experiments, compiles and analyzes the data, and prepares presentations and manuscripts describing project results. The trainee then proposes, plans, and executes additional experiments based on the project results. As individuals advance, they are given increasing responsibility for planning and designing experiments and trouble-shooting problems. All of these experiences combine to give trainees skills critical to becoming a successful researcher.
Research training culminates with:
A manuscript (serves as the thesis for the MS degree) or preparation of a dissertation (for the PhD degree)
Defense of the thesis/dissertation work to the trainee's graduate committee
Submission of one or more first author manuscripts for publication
Research findings will also be presented at regional and national scientific meetings.