ASLAP Foundation Summer Fellowship in Laboratory Animal Medicine at the University of Missouri

Interested in any or all of the following?
working with a variety of non-traditional animal species
coupling veterinary medicine and research interests
state-of-the-art research to improve human and animal health
learning about opportunities for veterinarians in biomedical research
getting paid to do so
If so, consider participating in this summer fellowship program.
Laboratory Animal Medicine offers many unique and exciting challenges. Individuals in these fields are involved in the care of many diverse animal species, administration of animal resources, diagnosis of diseases including many previously unrecognized and research that fosters improvement of human and animal health. Moreover, these individuals are in high demand and pursue a number of very rewarding career paths.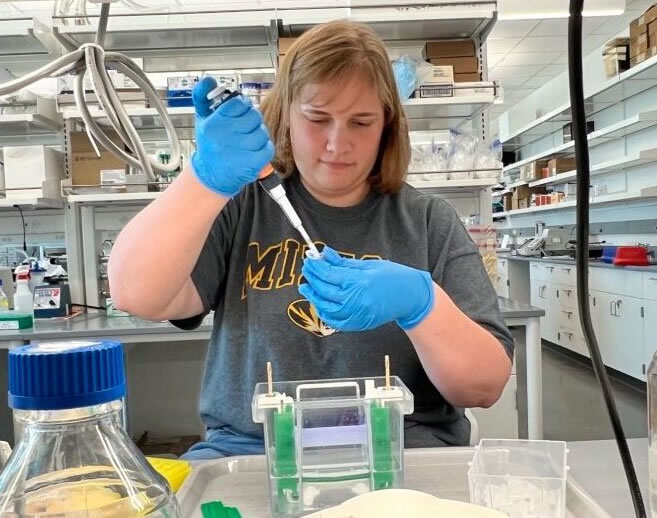 Through sponsorship from the American Society of Laboratory Animal Practitioners (ASLAP) Foundation, the University of Missouri Comparative Medicine Program is offering two 10–12-week summer fellowships. Activities will focus on laboratory animal medicine and comparative medicine research. Examples of activities include:
veterinary care of research animals including dogs, cats, swine, rodents and other non-traditional species
experimental surgeries
clinical and pathology rounds, research laboratory meetings, journal clubs, seminars, coursework, IACUC meetings, facility inspections and animal handling laboratories
investigations of research animal diseases
research project
For additional information about program activities, contact Dr. Sammy Gerb at gerbsa@missouri.edu.
In this fellowship, you will interact with 10-12 post-DVM residents and 18 faculty including 9 ACLAM board certified veterinarians. The ASLAP fellow will also join 25-30 other veterinary students as part of the MU Veterinary Research Scholars Program (VRSP) – see http://vrsp.missouri.edu for more information.
To apply, send a letter of intent describing your career goals, a resume, a letter of reference from one faculty member at your college or former faculty member/employer (see VRSP FAQs for details) who is familiar with your career aspirations and your current Vet School GPA to:
Dr. Sammy Gerb
Voice: (573) 882-6623
Email: gerbsa@missouri.edu
The deadline for applications is February 2, 2024.
You may apply to the ASLAP fellowship program, the VRSP or both. While these are related programs, the applications are reviewed by different committees so two separate applications are required if you choose to apply to both.
Similar externships (2 weeks minimum) are also available throughout the year. See MU CMP externships, check out our video or contact Dr. Gerb for more information.